GET A FREE QUOTE
Make your request for free in 3 clicks!
Marquage et placement
Upload
your image
Informations et précisions
You are a nonprofit organization, a company or an individual and you want to stand for a cause, an event or launch a business?
Create your own fundraising campaign with custom t-shirt and clothing for free with Tunetoo and achieve your goals!
Put your design on a product and with no fee your campaign of fundraiser t-shirt is totally free to operate.
All you need to do is to tell people about your campaign and start to make money!
How does it work?
You thought of a product that your association's members or co-workers may wear? You found a niche and believe that people may be interested in your creations? You aim at raising some money for a cause that matters to you?
You're a few clicks away to make your product available on Tunetoo and for free!
We simplify the selling process by enabling you to spread and sell your designs on a various range of product very quickly.
As easy as a crowdfunding campaign, you create for free one or several products with the same design and choose the selling prices and your profit margins.
We do the rest including: customization of products, individual or group shipping, retrocession on your commission.
Why would you choose Tunetoo?
We are the only creative platform to offer more than 200 products customizable in printing and embroidery.
Our mastering in printing and marking techniques used inside our workshop for 17 years, allows us to offer you the best quality at a lower price, with the largest range of products you will ever find on the market.
Last but not least, find out about our referral program and how to make money helping us in making our community grow. Click here to learn more.
To resume

Create your design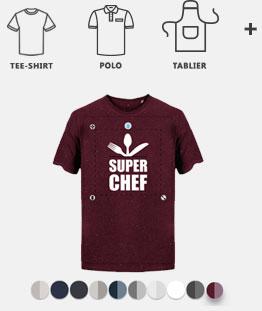 Choose your product
Customize as you like
Choose a product from those proposed by Tunetoo and customize it as you like.
During step 2, you can add other products as we automatically put your designs on all of them.
For each product, choose the colors you want to make available and correct the size or position of the design on all the products you added.

Set up your campaign
Estimate your winnings according to the fixed price
Enter your campaign information
Decide the time of the campaign
Once you choose the product, you make projections on how many products you think you'll sell (from 1 to 1000 units) and you decide your selling price. The minimum price is set so that your campaign is profitable from the first sale. Consequently, for each campaign with at least one purchase, production is launched.
You also establish the duration of the campaign (from 1 to 20 days).
Use our tool to calculate the unit margin and global margin you may receive if you reach your objective. 
Give a title and a description to your campaign. Be explicit and value that your products are unique, available for a short time only, made in France and you can buy them through secured payment.

On your marks, ready, share!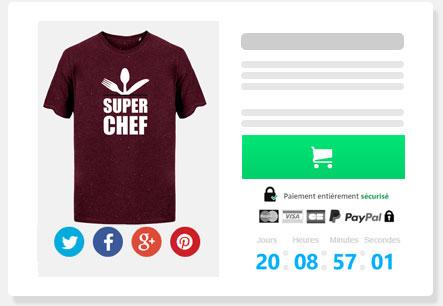 Share your campaign!
Tunetoo guides you to boost your sales
Once your campaign is launched online, it's time to promote it. Tunetoo provides you all the links you need for a quick sharing on social networks, Blogs and Forums.
Tunetoo handles everything
Now, your campaign is a success, the production is launched in our workshop in France, customers are charged, you receive your commission (calculations being made according to how many products you sold) and the delivery is made within 10 working days.
We are in charge of the personalization of the product, as well as the logistic and delivery process, and the customer service.
Then to make your campaign work: check again your strategy by reviewing your price, by re-thinking a better targeting or even by creating new designs.
We provide marketing help and advice
You're not an expert on webmarketing?
Tunetoo will guide you through tutorials to help you use different marketing channels and boost your sales.

Our sell team is at your disposal to answer to all your questions and to help you in your sales.

Create free campaign